History
In the 1970's the idea was born that the Methodist and United Reformed churches should join together to serve the growing community of Braunton.

There was ground alongside the existing URC building. It was decided to build a new church on that land and to convert the old church as a generous new hall.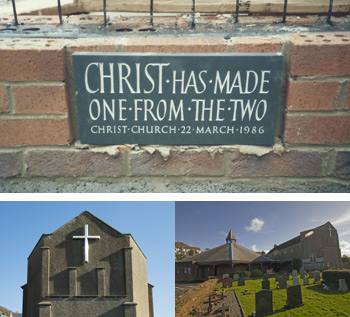 The foundations were laid and a stone plaque was built into the wall, which read "Christ has made one from the two".
The Methodist Church was closed and the joint congregation met in the old URC Church, whilst the new Church was built.
When the new church building was finally ready for use, the congregation was very happy with its beautiful modern Church.
However this was only the beginning of the story. The aim has always been to operate as Christ's Church and people from a number of backgrounds have found a home here. Members of the church have over the years been involved in many local organisations inside and outside the church. The acoustics of the new church have drawn many concerts. Also a large number of local organisations are regularly welcomed onto our premises during the week.
Whoever comes to Christ Church can be sure of a very warm welcome.